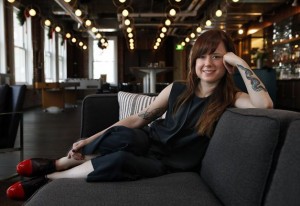 Geremia Design founder and principal Lauren Geremia is not your typical interior designer. A painter, she has used the fine art skills she honed at Rhode Island School of Design to become the go-to designer for San Francisco startups.
Don't let her age, 31, and easygoing vibe fool you – her plans for her Emeryville firm extend far beyond the Bay Area and the tech industry. Geremia is now ready to "take the show on the road" and explore new destinations for her talent.
After moving to the Bay Area in 2004, her interiors for several local bars started to get noticed by the young tech executives who frequented them. Residential work for an early Facebook employee came next, followed by referrals. She designed office spaces for bright young startups YouSendIt (now Hightail), Instagram and Dropbox.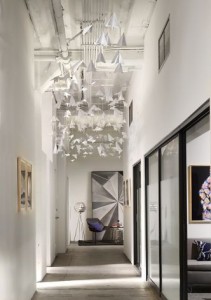 When Dropbox commissioned her in 2011 to design its new 89,000-square-foot headquarters in China Basin, Geremia hired a full-time team. Starting with an elegant foundation made it easier to keep the integrity of the design when the team moved in: "Dropbox was an interesting project, because they knew it was going to end up being covered in whiteboards, Legos experiments and catered food – I knew I had to create a platform that was maybe too sophisticated at the time, but when you put in the content and the employees' belongings, it feels organized."
Read more at:
http://www.sfgate.com/style/article/Lauren-Geremia-upstart-designer-for-tech-5131676.php